Despite the rapid increase in the number of vehicles, the number of fatal traffic accidents in North America is much lower than it was decades ago. Thanks to advanced safety standards, improved road conditions, quality of cars, car history reports and other new technologies such as speed cameras, American highways are safer than ever. Nevertheless, traffic accidents are still a serious problem. That might be proved by looking at salvage auctions in Detroit, MI and many others.
Unfortunately, North America is home to some of the world's most dangerous roads. From the icy mountain passes of Alaska to the winding highways of Mexico, these roads pose a significant risk to drivers and passengers alike. Let's take a look at some of the most dangerous roads in North America.
The Dalton Highway – Alaska, US
Alaska's Dalton Highway is a 414-mile (around 670 km) gravel road that stretches from Fairbanks to the North Slope oil fields. It's known as one of the most dangerous paths in the world due to its narrow lanes, poor visibility, and extreme weather conditions. The road is frequently closed during the winter months due to heavy snowfall and high winds, making it almost impassable.
The James Dalton Highway is particularly hazardous due to the presence of large commercial trucks carrying heavy loads of equipment and supplies to the oilfields. The sheer size and weight of these trucks make it difficult to maneuver around them, particularly on the narrow and winding stretches of road.
Some sections of the route are not paved, while others are regularly subjected to avalanches. There are hardly a few towns and gas stations along the whole path, so you can easily run out of fuel.
In 1994, the road was opened to tourists, troubling truck drivers who had been driving the treacherous two-lane road for years to supply fuel, gas, and heavy industrial equipment to the region. Due to the almost isolated location, the police or rescue services can hardly get here, so, as a rule, a helicopter patrols the road twice a day.
U.S. Route 550
U.S. Route 550 (US 550) is a north-south highway that runs through the western United States. The highway stretches for 306 miles (492 km) from Bernalillo, New Mexico, to Montrose, Colorado.
In New Mexico, US 550 begins at its southern terminus at Interstate 25 (I-25) in Bernalillo, just north of Albuquerque. It then runs north through the cities of Cuba, Bloomfield, and Aztec before entering Colorado.
Popularly known as the "Colorado Million Dollar Highway" due to its passage through one of the most beautiful and breathtaking landscapes, this stretch of mountain road is a real nightmare for those who are afraid of heights. A narrow two-lane road, built in the late 1880s, winds its way through the heart of the Rocky Mountains of Colorado.
Most of the road has a steep slope to the left, and there are no guardrails here, so one awkward or careless movement when driving, and you'll fly out into the abyss. Drivers are also forced to avoid periodic rockfalls, and in winter only the most desperate will dare to drive here.
Mexican Federal Highway 1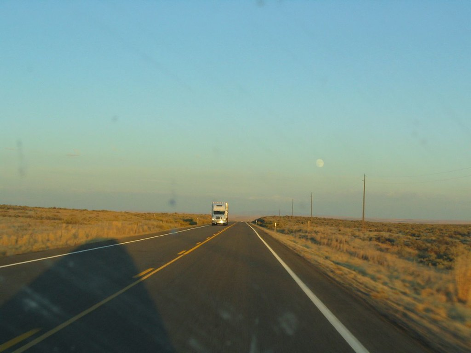 The highway starts in the border city of Tijuana in the northern state of Baja California, and extends southward along the peninsula, passing through major cities such as Ensenada, San Quintín, Guerrero Negro, and Santa Rosalía, before terminating at Cabo San Lucas in the southern state of Baja California Sur. The total length of the highway is approximately 656 miles (ca. 1,056 km), and it is an important route for both commercial and tourist traffic in the region.
At the same time, Mexico's Highway 1 is another dangerous road in North America. It runs along the Baja California Peninsula and is known for its sweeping curves, steep drops, and narrow lanes. The road is particularly hazardous during the summer months, when the combination of high temperatures and heavy traffic can lead to accidents and vehicle breakdowns.
One of the biggest challenges of driving on Highway 1 is the lack of services along the route. There are few gas stations, rest areas, or emergency services, making it difficult for drivers to get the help they need in case of an accident or breakdown.
In Conclusion
North America is home to some of the most hazardous roads in the world. From icy winter conditions to steep drop-offs and narrow lanes, each of these roads poses a significant risk to drivers and passengers. It is essential for drivers to exercise caution and follow safety guidelines when traveling along these routes to ensure their safety and the safety of others on the road.