What is Cookie Clicker Unblocked?
Cookie Clicker Unblocked is a famous website to play Cookie Clicker game without downloading. Julien "Orteil" Thiennot, a French programmer, invented the incremental game Cookie Clicker in 2013. The user first clicks on a big cookie that appears on the screen, earning one cookie for each per click. Then, they can spend the cookies they have earned to buy items like "cursors" and other "buildings" that generate cookies on their own. Additionally, there are upgrades that can increase the effectiveness of clicks, structures, and a variety of additional elements that let the user earn cookies in various ways.
There is a devoted fan following for the game. Despite being created in one night, Cookie Clicker is frequently updated. It has been characterized as addicting and is credited with contributing to the rise of idle gaming. The wildly popular clicker game has amassed millions of followers worldwide. As long as you have enough cookies to purchase upgrades, the goal of the game is to bake cookies by clicking on a huge cookie. It would seem that since there is no end to the game's gameplay, it can endure forever—or at least until your device can no longer support it.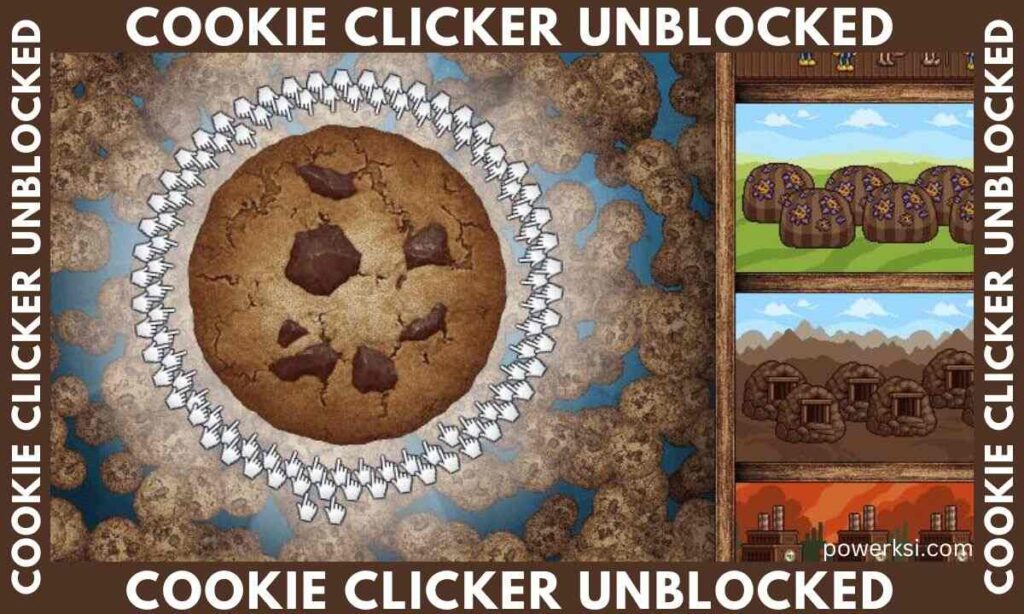 How to play Cookie Clicker Unblocked?
Step 1:- First click on a large Cookie and earn more cookie point by per click.
Step 2:- These Cookies helps to buy upgrade and structures such as Cursors, grandmas, mine, bank, Farm, Temple, Towers, and several structure that generates more cookies points automatically.
Step 3:- As you buy more assets and structure, the price increase exponentially by 15% more that the last time.
Step 4:- Buy more Upgrades to increase the production od cookies
Step 5:- And the most important Golden Cookie, they appear on random location and vanish after few second. Golden Cookie gives temporary Buffs to increase production of cookies.
Step 6:- As user prestige level increases, the rate of production increase by 1% on every level ups. By Leveling up user earn heavenly chips and these chips can be used to buy more prestige upgrades.
Step 7:- Be cautious of "Wrinklers" (beast that reduce speed of production on click).
Step 8:- Continue to increase production and level to earn more cookie avoid Wrinklers beasts and upgrade by your game by using Golden cookie, Krumblor the Cookie Dragon, mini games, sugar lumps and by participating on various events. That is all you need to know to play Cookie Clicker Unblocked Game.
How Cookie Clicker Game become popular in one night?
On August 8, 2013, Julien Thiennot, also known as Orteil, invented Cookie Clicker. The game was created in one evening, uploaded as a link on 4chan, and within hours it had attracted 50,000 players. Over 200,000 gamers per day were playing the game a month after its first release. In a later article, Orteil noted that traffic had peaked in August 2013 with 1.5 million hits in a single day. By January 2014, Cookie Clicker was still receiving a constant 2,25,000 hits per day. Since its initial release, the game has received numerous upgrades, most notably the "legacy" update in February 2016 and the "spiritual" update in July 2017.
Cow Clicker, an idle game made by Ian Bogost before, is comparable to Cookie Clicker. Cookie Clicker has been referred to as "the logical conclusion of Cow Clicker" by Bogost. Later, Orteil launched other idle games like NeverEnding Legacy, AdventureQuest Dragons, a mobile game developed with Artix Entertainment, and Idle Game Maker, a tool that enables customised idle games to be built without programming experience.
Is It safe to play Cookie Clicker Unblocked?
Cookie Clicker Game does not ask one to add any bank details for start playing the game. Hence, it is safe to say that the game is safe to play. It does work from a decent internet connection and UI of the website is good. Even they do not have many pop ups coming before they allow you to play the game. It does reduce the chances of seeing some bad advertisements.
IGN Article Of Cookie Clicker :-The Effect Of Idle Gaming
According to an IGN article, Cookie Clicker is one of the few games that had a significant impact on the development of the idle gaming (also known as incremental gaming) genre. It is referred to as "probably the best-known" game in the category in an article published in The Kernel.
In a piece for Digital Culture & Society, Paolo Ruffino writes that the game is "supposed to be a parody of FarmVille" (a well-known game that, according to Ruffino, could be played easily with an algorithm because the best course of action is always evident), but that it is "equally addictive" as FarmVille. Idle  games are, however, also regarded by many as being quite basic or, as described in an IGN article, "super dumb" due to its mockingly simplistic mechanics.
This blending of simplicity and complexity has been employed by games like Cookie Clicker to create a new genre that some people would not even perceive to be games. "Nongames" is how Orteil himself characterized his creations.
Theme Of Cookie Clicker
The names and descriptions of some of the game's upgrades, achievements, or systems contain dark comedy, and the dystopia, cosmic horror, and apocalyptic themes are prevalent. Examples include the "Global Warming" achievement (unlocked upon owning 100 factories), the news ticker tape "New cookie-based religion sweeps the nation," and the "Grandmapocalypse," in which "the display turns hot red and the main cookie is assaulted by "wrinkles"," with a message that the collective awareness of transformed grandmothers is in authority over the globe as a whole.
Conclusion
In conclusion, Cookie Clicker Unblocked is an entertaining and addictive game that gives players complete freedom to click whenever they want. It is understandable why players of all ages have grown to love this game version with its straightforward design, unlimited play, and frequent upgrades.
To play effectively, keep in mind to click quickly, spend money on improvements, use golden cookies, pay attention to accomplishments, establish goals, and make use of the game's dynamics. You should also constantly save your progress. Cookie Clicker is a terrific option if you're seeking for a method to kill time or want to sate your cookie appetite.
For those who enjoy playing straightforward games, this is a fantastic game. Due to the game's attributes, features, and advantages, players frequently choose it. The game is fantastic for kids since it enhances their hand eye coordination, attentiveness, and focus. Unblock Cookie Clicker We recommend Games 911 to anyone searching for a straightforward but engaging online game to play because it is a fun and exciting way to pass the time.
FAQ
Q Is it legal to play Cookie Clicker Unblocked?
There is no case reported where playing Cookie Clicker has gone behind the bears. So there is no such legal issue. However, you can try the game on official website.
Q Can I download Cookie Clicker game from Unblocked site?
Not from Unblocked Game Site you can download. Here you can only play online. However, you can download it from App Store and Play Store.
Q Who is the maker of Cookie Clicker Game?
The makers of Cookie Clicker Game is Julien "Orteil" Thiennot, a French programmer.
Q Is Cookie Clicker Unblocked free?
Yes, It is free to play. You just need an internet connection and a smart device to play.
Also, Read About:-
Roblox Unblocked, Slope Unblocked, Retro Bowl Unblocked and More 2023 Unblocked Games Free Websites List.